Nominated for eight Academy Awards, and winner of four Oscars including Best Picture, A Beautiful Mind is one of the premier dramas of the decade.
The brainchild of popular director Ron Howard (Opie from The Andy Griffith Show), A Beautiful Mind debuted to widespread critical acclaim due to the depth of its screenplay, the brilliant performances of Russell Crowe and Jennifer Connelly, and the in-depth portrayal of a victim of mental illness. Based on the true story of John Nash, a schizophrenic mathematical genius who overcame his illness and went on to win the prestigious Nobel Prize for his "Game Theory," A Beautiful Mind is one of the best films of the decade …
Storyline:
From the heights of notoriety to the depths of depravity, John Forbes Nash, Jr. experienced it all. A mathematical genius, he made an astonishing discovery early in his career and stood on the brink of international acclaim. But the handsome and arrogant Nash soon found himself on a painful and harrowing journey of self-discovery. After many years of struggle, he eventually triumphed over his tragedy, and finally – late in life – received the Nobel Prize. – Imdb.com
Review:
A young mathematical genius, John Nash (Russell Crowe) enjoys the early success of a budding career in academia. Able to complete mathematical formulas that baffle many of the greatest minds of his time, a young Nash stands on the brink of profound discovery with a limitless future and seemingly inevitable fame at his doorstep. Meeting a beautiful girl at an evening party, Alicia (Jennifer Connelly) would later become Nash's wife. The two seem destined for a life of bliss. But Nash's problems were not confined to the mathematical arena …
Watch A Beautiful Mind (2001) Trailer:
Suffering from schizophrenia, Nash develops an acute sense of paranoia, decoding encrypted non-existent Soviet spy messages from comic books and newspaper advertisements. The reality in which he lives does not exist, and it threatens to tear apart his marriage, his career, and the very life which he holds dear … Can Nash overcome his debilitating disease and pursue the course of excellence to which he once seemed destined? The cast and crew of a Beautiful Mind allow us to see a whole new world through the eyes of suffering genius …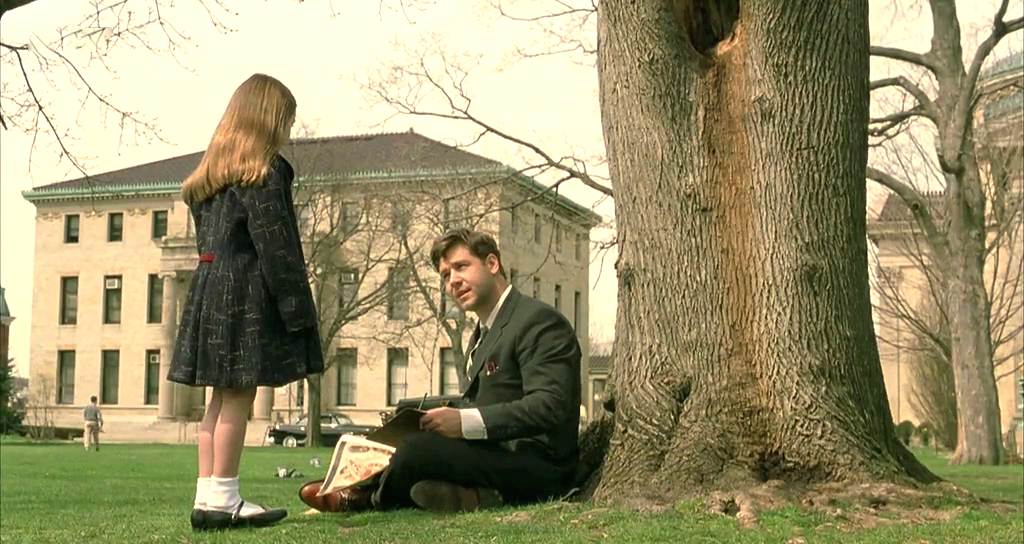 Russell Crowe's follow up performance to smash hits LA Confidential and Gladiator, A Beautiful Mind is an unbelievable journey into one man's reality. Russell Crowe's brilliant portrayal of the schizophrenic Nash and Jennifer Connelly's standout performance as the woman who loved him form an onscreen synergy that continually drives the screenplay of a Beautiful Mind. Exhibiting quality direction from Ron Howard, the film stands as an eternal testament to the beauty of the human mind and the durability of the human spirit to overcome obstacles and shine at its brightest.
A fascinating film which successfully blurs the lines between John Nash's imagination and the world of reality, A Beautiful Mind vividly illustrates one man's struggle against great odds. As Nash's paranoia and hallucinations collude to blot out the genius of a beautiful mind, the power of the human spirit rallies to great heights – achieving a Nobel Prize and even the immortalization of one's own life in film! Nash should be lauded for his triumph against a paralyzing disease, and Ron Howard should be praised for delivering a cinematic masterpiece that shows us the true beauty of one man's plight. For these reasons and more, A Beautiful Mind is definite must-see film – perhaps one of the fifty best films of all time …